TRAVEL CLUB – SMALL GROUP HOLIDAYS
For Single Travellers and Couples
Jenny Day has been bringing together individuals and couples into small group holidays in Turkey for over 30 years. Many of these holidays have been personally led by her. Over the years, a loyal following of DayDreamers have joined her in exploring new locations, excavations and land excursions. Her idea of continuing this concept with the formation of The Travel Club was launched in 2012 with holidays on land and sea.
A tour leader/hostess travels with all these small group holidays. Sue Sutherland, a landscape architect by profession, led many of our schooner parties during the early years of the company and returns in 2018 as a tour leader. She is pictured below, to the right of Jenny and captain Mustafa. 
There is no charge for joining The Travel Club, but we do ask for some information from those participating in the holidays, your name, age, contact details, your profession and/or interests. We do not pass this information on to third parties, it is for our internal use only. We might also ask for information on your fitness to travel if it is appropriate to the holiday. Our philosophy of bringing together small groups of like-minded people to achieve a good social mix remains a critical factor in the success of these holidays. You can of course expect to receive the close attention to detail which is a hallmark of our business.
| | |
| --- | --- |
| | |
| Captain Mustafa with Jenny Day and Sue Sutherland | |
The outline programme for 2018 is detailed below.  Itineraries will include the southern Dodecanese islands; the Hisaranu and Gokova gulfs and the Lycian coastline between Fethiye and Kekova.
2018 - our 30th Year
Gulet Holidays on board CEVRI HASAN III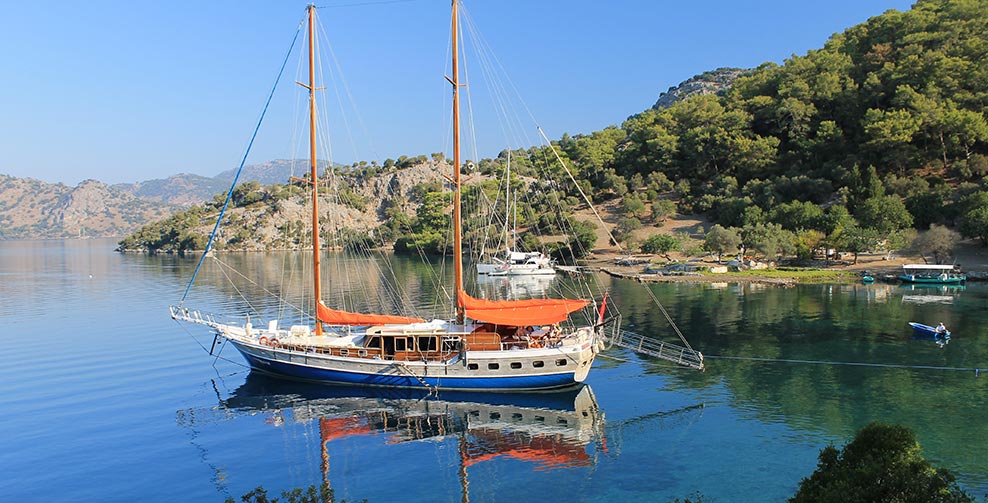 The Programme and dates:
May 18-28
10 nights/11 days

Gulet holiday - Bodrum-Fethiye
Starting at Bodrum, we visit Knidos and villages in the Hisaranu gulf en route to Bozzukkale, then Ekincik and onward into the Gocek gulf before finishing at Fethiye.
May 30-June 9
10 nights/11 days

Gulet holiday – The Lycian coastline between Fethiye and Kekova
Starting at Fethiye, our itinerary will include visits to Kas, Asar, Kale, Ucagiz, the marvellous new excavations and museum at Andriake; plus a day out driving up into the Taurus mountains to the site at Arykanda, followed by the old Ottoman town of Elmali.  We might also fit in a visit to the island of Kastellerizon.  We will finish the cruise at Fethiye unless wind conditions force us to leave the boat at Kas.

September 13-23 *
10 nights/11 days

Gulet holiday - Southern Dodecanese islands (Kos, Nissyros, Tilos and Symi)
Starting at Bodrum we complete immigration formalities before heading over to Kos to enter Greek waters.  We return to Datca (Turkey) after completing formalities at Symi.  We will then follow the lovely coastline along to Knidos before finishing at Bodrum.

September 25-October 4
9 nights/10 days

Gulet holiday - Bodrum-Gokova Gulf-Bodrum
A very relaxing holiday with some lovely walks along forestry trails in some of the most beautiful scenery and anchorages of the entire coastline.  Definitely a favourite with Jenny Day.
Please note that on all gulet holidays, it may be necessary to fly out one or two days beforehand (or stop over until the next return day) in order to board the boat at the appropriate time and to take advantage of direct flights from regional UK airports. We will organise transfers and hotel accommodation at our favourite new boutique hotel, the Ena in Bodrum or an equivalent hotel in Fethiye.
YOUR FINANCIAL PROTECTION
To protect you, the client, under the terms of the EU Travel regulations, DayDreams Travel Ltd has established a separate Clients Account with Barclays Bank plc under the control of an independent accountant: Mr Robert Mugford FCCA of Bray Accountants, Tiverton, Devon, EX16 6PE. Monies received from clients for the sea and land-based elements of a holiday are held in the Clients Account until completion of the holiday. In the unlikely event of our insolvency, all clients' monies due will be returned to them.
---